Coaches Bio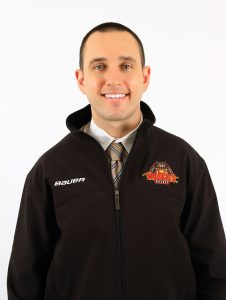 Ben Frank—President- ben@jrreign.com ex. 704
"I have an intense passion for growing young people through the great sport of ice hockey. The sport and the people I have met through it, have done so much for my life, that I want to share that special experience with as many kids as possible so that they too can be positively impacted just as I have been and continue to be. I feel blessed to have the opportunity every day, to lead an organization with this as the primary goal." Ben Frank is the President of Wildcats Hockey Club based out of Riverside California. Originally from Toronto, Canada, Ben grew up with a passion for the game playing youth hockey, Junior, and finally Collegiate hockey at the University of Toronto where he graduated with a Bachelors' of Physical Health and Education. By chance, Ben ended up playing professional roller hockey in California after completing his degree and had the opportunity to start coaching youth hockey during his stay. Ben's passion for the game grew as he was able to impact others through the sport he loved and he soon became president of the small club he was coaching with. Years of challenge and ups and downs led Ben down the path of moving the club towards becoming a USAH Model Association. The massive change and success with the program has catapulted the program forward in growth and reputation. Ben now travels around the country speaking to various hockey groups and using the Wildcats story of challenge and success to help others with implementing change within their own organizations. Ben's most recent speaking stops include: NARCE USAH Hockey Directors Course-Columbus, Ohio, USAH Annual Congress-Colorado Springs, MAHA Summer Meetings-Mt. Pleasant Michigan, PVAHA Summer MeetingsMaryland, USAH Coaches Level 4-San Jose, CA.
---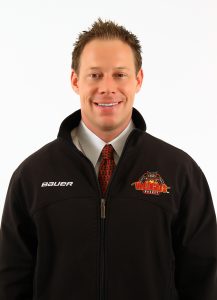 Paul Esdale –  Riverside Program Director – paul@jrreign.com ex. 712
" We strive to be great role models for today's youth and relish the opportunity to guide beginners to experienced players in their journey through the game of hockey while using sport as a vehicle to teach life lessons. It's our responsibility to give the players a positive experience, increase their passion for the game, facilitate their dreams and lead them to be positive contributors in sport, family, community, school and beyond. "Paul was born and raised in Edmonton, Alberta, Canada, the son of Peter, career coach of 25 years. A standout hockey and tennis player, Paul was cut from his Midget hockey team and deemed " too small to play at a high level ". Through years of hard work and determination, Paul reached a Top 10 ranking in Canada for the Under 18 age group in tennis while playing four years in the Alberta Junior Hockey League earning him a commitment from Brown University Division I hockey team. An All- Ivy and All- ECAC defenseman at Brown, Paul graduated with a Business Economics degree in 2003. Following his collegiate career he played six years of professional in the AHL, CHL, ECHL, IHL and spent time in Sweden, Denmark and Germany. Following his playing career Paul was the Head Coach and General Manager of the Alberni Valley Bulldogs in the British Columbia Hockey League (BCHL) for three seasons. In his time in the BCHL he sent 25 players to Division 1, Division 3 and Canadian University to pursue their hockey and education careers.
---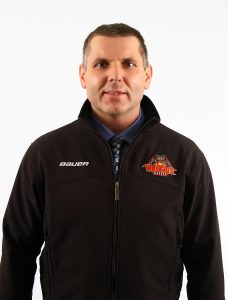 Tomas Kapusta– 14/16/18 High Performance Tier program Director – tomas@jrreign.com ex. 711
"I can't even imagine doing anything else in my life then be involved in teaching and coaching young hockey players. Growing up playing hockey since I started to walk and knowing this sport inside out playing hockey professionally for twenty years provides me with the foundation to give back what I have received. I understand how much I was gifted and I am thrilled to have a chance to share my passion for hockey with players of all ages." Tomas was selected by Edmonton Oilers round 5 #104 overall 1985 NHL Entry Draft and he was part of the Czech National Team at the 1994 Olympic Games in Lillehammer, Norway. Tomas's career was filled with numerous achievements including; 2000-2002 Captain of the Long Beach Ice Dogs (WCHL); 1999 Second Place team in Czech Republic Extra league; 1993 Bronze Medal at World Championships, 1993 Leading Scorer in the Elite Finnish League, 1991-1992 The Award for Perseverance and Sportsmanship with the AHL Cape Breton Oilers; 1987 Silver Medal at the World Junior Championships; 1985 Silver Medal at the World Junior Championship. Tomas graduated with a BA in social science at CSULA and received a certified teaching credential at CSULB. Before he accepted his position with the Wildcats Club Tomas served as a Jr. Kings Head Coach and Hockey Director for Toyota Sports Center. For the past 10 years Tomas worked with the Jr. Kings organization and developed teams in the in-house program all the way to the Bantam.
---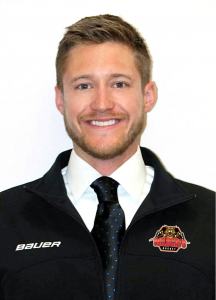 Bryce Karlman – Carlsbad Program Director – bryce@jrreign.com ex. 701
Bryce was born in Chicago, IL.  After a handfulyears, his family moved out west to San Diego. At a young age, he was active and played a variety of sports. Once he tried hockey, there was no other game or activity that compared. Fueled by his passion for the game, Bryce has worked and played in the industry for two decades. His vocational path has allowed him to learn valuable skills and assets,
while getting to experience different areas of the country and globe. "The power of playing this game, can be life changing. It is a privilege to help build into a
hockey player's inner and external self. My goal is to develop long term athletes. Being a part of the Wildcat Hockey organization is a special thing; solid foundation, fair/firm beliefs and great partners like, USA Hockey and Positive Coaching Alliance."
---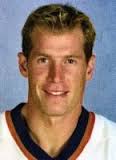 Craig Reichert – Director of Skill Development and Training Facilities- craig@jrreign.com ex. 703
Craig was born in Winnipeg, Manitoba Canada and moved to Calgary, AB at a young age. Once in Calgary, he started to play hockey at the age of 4 yrs. old and fell in love with the sport. He continued to play youth hockey in Calgary until the age of 16 until he moved away from home to join the WHL in Spokane, WA. After just one year in Spokane he was chosen in the expansion draft by the newly formed WHL team the Red Deer Rebels .During his 2 years in Red deer, Craig was named an assistant team captain and went on to set a record for points in a season of 119pts. During the sum-mer of 1993, Craig was drafted 63 overall by the Anaheim Mighty Ducks and would play his first professional season in San Diego for the Gulls in the IHL. From there, Craig enjoyed a 9 year professional hockey playing career that included stints in the NHL with the Anaheim Ducks, contracts from the Florida Panthers and Edmonton Oil-ers, several years in the American hockey league and 1 year in the German Elite league. One of Craig's most memorable moments was playing in an NHL league game in the world famous Maple Leaf Gardens which now no longer exists. Craig took pride during his career in always leading by example on and off the ice. This allowed him to be named either an assistant or team captain during the majority of his junior and professional ice hockey career. Along with hockey, another passion of Craig's is fitness and exercise. He realized early on in his teenage life the importance of fitness in hockey and the amount hard work that was involved in becoming the best that he could be. This ultimately led him to be ranked near the top of the NHL team Combine testing every year in training camp. Craig has also been certified by the International Sports Science Association for the past 9 years as fitness trainer. After retirement Craig has always been involved in hockey and fitness in some form or another. Whether it was scouting in WHL, teaching kids through his hockey training company in Calgary, Ab or working as a personal trainer he has always been deter-mined to help people reach their goals in hockey, fitness or life in general. In his free time, Craig enjoys exercising, playing various sports, traveling, supporting animal rights and spending time with his wife along with his friends and family.