Programs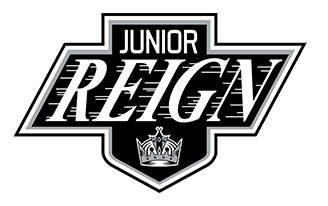 Junior Reign Hockey Club offers organized programming for all ages and abilities as well as all times of the year that are structured differently depending on the age, ability, and season. The seasons are based on planning training and recovery for long-term success and growth with the main and longest season being our Fall program.
Key features of the Junior Reign Hockey Club as a USA Hockey Model Association:
We do not cut kids!

Players who want to build their skills and work on themselves as people are welcome in our program and we will assign them to the appropriate level of play to have a positive sports experience.

All teams at the 8U, 10U, and 12U and 14U A/B levels have limited roster sizes and equal playing time for all players to maximize fun and player development.
All teams at the 8U, 10U, and 12U and 14U A/B levels will not travel out of state, thus focusing families time and resources at home and school.
High-Performance Tracks of AA and AAA Tier Hockey at the Bantam (14U) and Midget (16U and 18U) levels provide unmatched opportunities for players who have decided to pursue hockey to the highest levels of play.

Based on the programming of USA Hockeys National Development Team program, these teams offer a training environment and guidance that will prepare players for the next steps in their hockey careers.

Girls opportunities on mixed teams and girls-only teams.
*All ages and levels offered for teams out of each Riverside and Carlsbad Icetown.
Age groups for Mixed teams (boys and girls):
Mite-8-Under
Squirt-10-Under
PeeWee-12-Under
Bantam-14-Under
Midget 16Under
Midget 18Under
Girls team age groups:
8-Under
10-Under
12-Under
14-Under
16-Under
19-Under
Levels of play
Mite Track 2-Limited experience required. Players need to be able to skate on their own and handle the stick (usually less than 2 years of experience playing hockey).
Mite Track 1-Normally for Mite players who have played at least one season of club youth hockey.
B levels–May be players entering into club hockey, less than 2 years of club hockey, and/or players in the first year of their age classification.
A levels-Experienced level players usually with club level hockey experience.
AA and AAA Tier levels are for the experienced hockey player who aspires to commit to hockey as their primary sport and push themselves to compete at elite levels of play statewide and nationally.